About the Virtual Beachfest
Date
TBA
Complete your race anytime from December 1 - 31, 2020
Run or walk the Honolulu Marathon, Start to Park 10k or the Kalakaua Merrie Mile wherever you are!
Complete your race anywhere
Complete your race and submit evidence anytime in December
Complete your marathon over multiple days. Choose to enter the "single day" or "multi-day"
Use any running tracking app. Photo/screenshot evidence is all that is required for verification
Earn the official Mizuno finishers shirt and medal
Enter one, two or all three race distances, The Big Kahuna Challenge
Gain access to the Virtual Beachfest area, and let Hawaii come to you
Downloadable bibs, finisher certificates, digital medals and other goodies
Each event comes with its own unique medal and official Mizuno finisher T-shirt. Bundle two or more races to save money, earn bonus bragging rights, and score more beautiful race bling. Do the Big Kahuna – all three events!
You'll be able to complete the marathon distance over many days if you need more time. We honor the "No time limit" rule at the Honolulu Marathon!
Participants will also experience the Honolulu Marathon Virtual Beachfest, a Honolulu-branded festival experience with training videos, virtual entertainment, cultural highlights, and delicious at-home food & beverage recipes.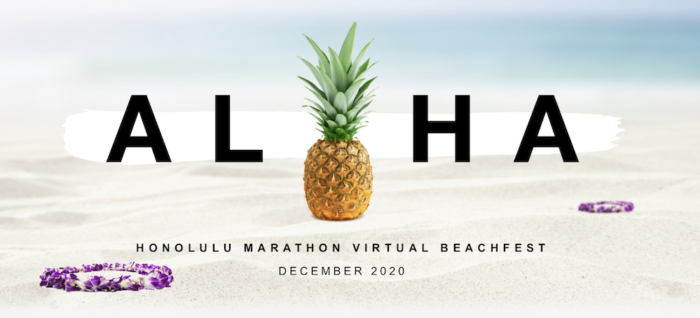 Celebrate your entry by accessing training advice videos, download bespoke Zoom backgrounds, our Spotify playlist, and offers like 15% off our range of Honolulu Marathon training merchandise.
We'll also teach you how to cook traditional Hawaiian dishes and how to make your own celebratory cocktails! Need to keep the kids entertained whilst you train? No problem, download our kid's pack for some fun activities for them to enjoy.
Speaking of training, share your training runs with friends by creating your own custom photo memento, and when you are ready for the event, download and wear your e-bib with pride. Don't forget to take a selfie on your own finish line and upload it to social to appear on our virtual finishers wall.
Then sit back, sip that Mai Tai, and wait for your stunning medal and T-shirt to arrive.