Finish Area
The finish line at Kapiolani Park remains open until the last person has finished. All runners will be permitted to finish regardless of their time. That's the Aloha spirit!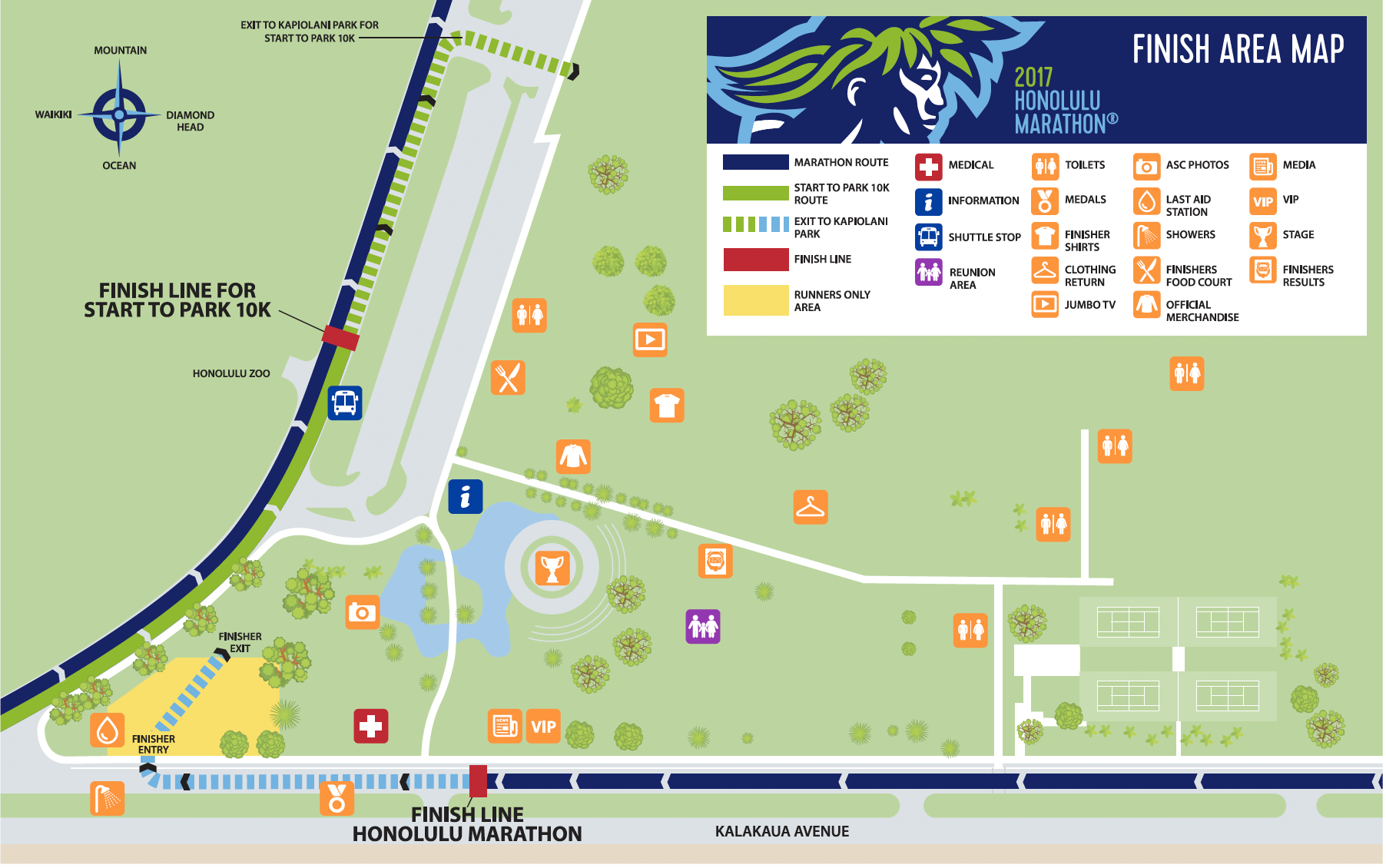 FINISHER SHIRT:  Finisher t-shirts are for FINISHERS ONLY, not entrants. To receive a shirt, finishers must show their runner number at the Finisher T-shirt pick-up tent immediately after the race. Preferred size not guaranteed.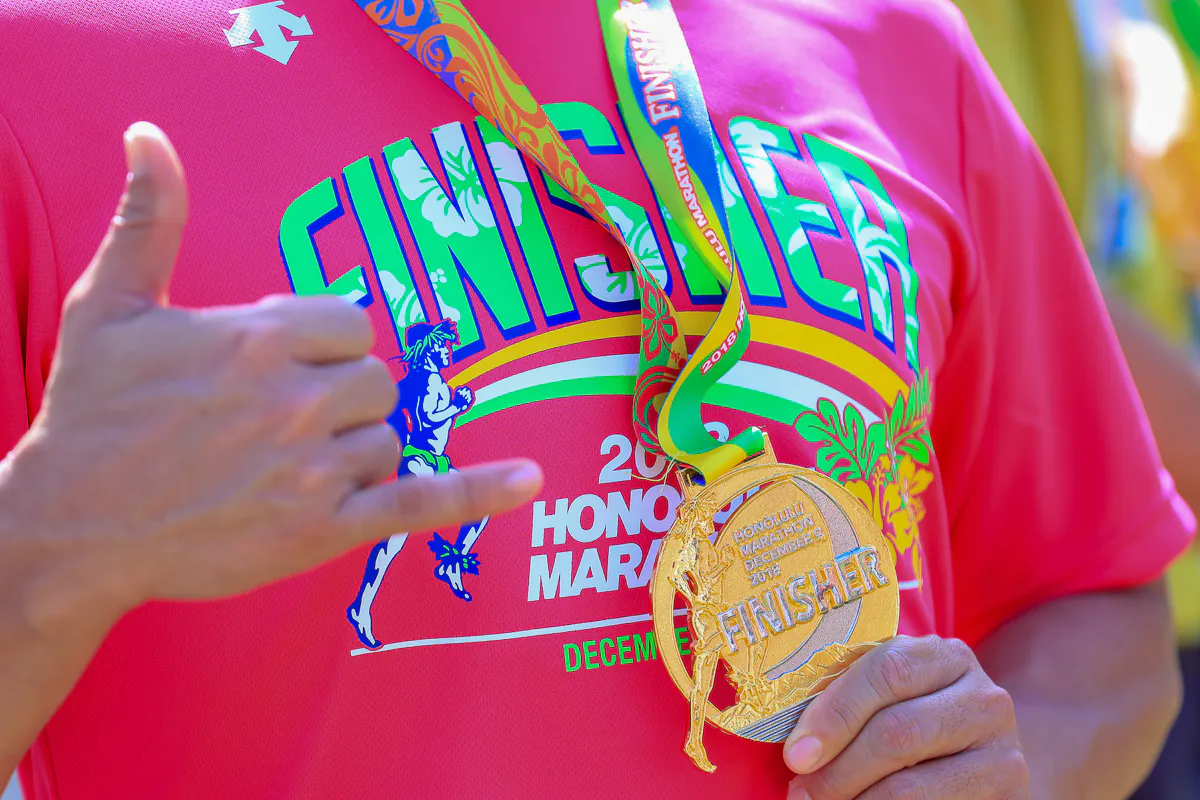 POST RACE FOOD: Freshly made malasadas, bananas and bagels will be waiting for you at the food tent.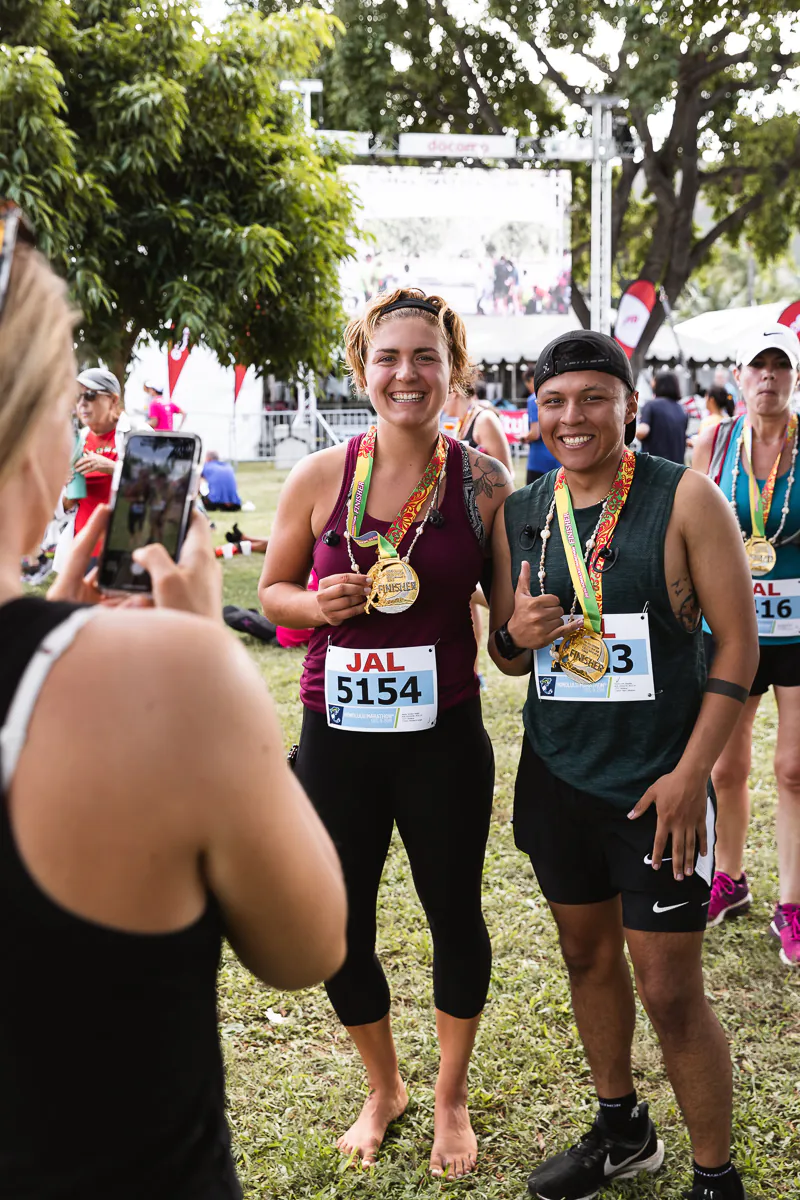 BIG SCREEN FINISH: We'll show a video feed on a delay so you can see your finish on the big screen in the park.
FINISHER CERTIFICATE: Finisher certificates will be available for pickup at the Hawaii Convention Center on Monday, December 9 from 9 AM to 5 PM. To facilitate pickup, please bring your runner number. 

FINISHER PHOTOS: All Sports Community are the official photographers and will be stationed throughout the course. Make sure you smile when you see them!
CLOTHING CHECK-IN: The Clothing Check-In is in Kapiolani Park in the Finish Area and opens for drop off on Saturday, Dec 7, 10AM-5PM. Your belongings must be placed in an official bag labeled with your running number which you collect at packet pick-up. Only officially labeled bags will be accepted at the Clothing Check-In tent.  Bags not collected by 3PM will be donated to charity.
AWARDS CEREMONY: The awards ceremony begins at 1:00PM at the Bandstand in Kapiolani Park.
GETTING BACK TO YOUR HOTEL: Most Waikiki hotels are within walking distance from Kapiolani Park. At approximately 9:30 AM, Oahu Transportation Service  (OTS) public buses will pick up riders at the Monsarrat Avenue bus stop between the Kapiolani Park Bandstand and the Honolulu Zoo. Bus fare is $2.75 or $5.50 including transfer (exact change only). More OTS bus information is available at www.thebus.org.  Some taxis may be staged in the Honolulu Zoo parking lot. Please bring enough money to cover the cost of the taxi fare. 
UNOFFICIAL RUNNERS: Runners without an official number may not cross the finish line. They detract from your official participation, take supplies intended for official entrants, and cause finishing places to be incorrect. We urge you to discourage anyone you know who intends to run unofficially.
FINISH RESULTS: Results will be available live here