Getting to the Start
Start Location: Ala Moana Boulevard/Queen Street Extension
Finish Location: Kapiolani Park
Start: 5:00 AM on Sunday, December 11, 2022.
Note that all start groups start at 5:00 AM.
To ensure an orderly start, please proceed onto Ala Moana Boulevard and Ala Moana Beach Park beneath the banners indicating your start group color.
Road Closures: No entry to the Starting Line Area from in front of the Starting Line. All participants must enter from Piikoi St or the back entrance off of Atkinson Dr or from Waikiki. This policy will be strictly enforced due to our new security measures. Please see the map.
All participants are asked to assemble in their start group color and wait instructions for the start.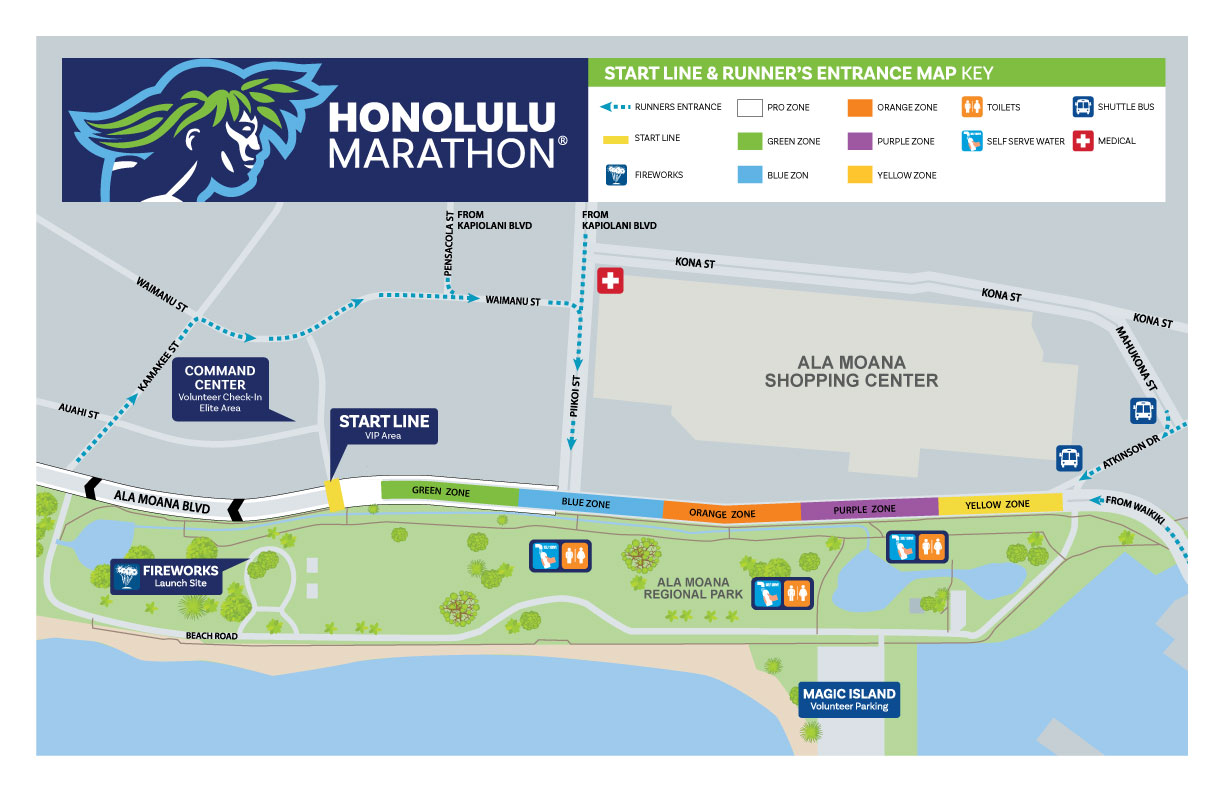 *Please note the staging areas on the map are not exact and subject to change
Start Groups: You will be assigned a start group based on your predicted finish time. Each start group has a designated color and your bib will have your start color. The bibs for both the Honolulu Marathon and the Start to Park 10k will be color coded.
Please stay within your assigned start area until called forward.
Start Line Staging: Stage in the corresponding banner area designated by your bib color. This will allow for runners of a similar pace to cross the start line together and a more pleasant marathon and 10k for everyone.

| BIB/START COLOR | PACE (MIN/MILE) | MARATHON FINISH TIME |
| --- | --- | --- |
| WHITE | ELITE PACE | ELITE PACE |
| GREEN | 5:00 - 9:10 | 2:30 - 3:59 |
| BLUE | 9:10 - 11:25 | 4:00 - 4:59 |
| ORANGE | 11:25 - 13:40 | 5:00 - 5:59 |
| PURPLE | 13:40 - 16:00 | 6:00 - 6:59 |
| YELLOW | 16:00+ | 7hours + |
TRANSPORTATION:
Free Shuttle: There are complimentary shuttles running from the Honolulu Zoo to the Start from 2 AM – 4 AM. Board early and don't wait for the last shuttle as there may not be room for you.
Check that your hotel is not closer to the start-line than the shuttle pickup point.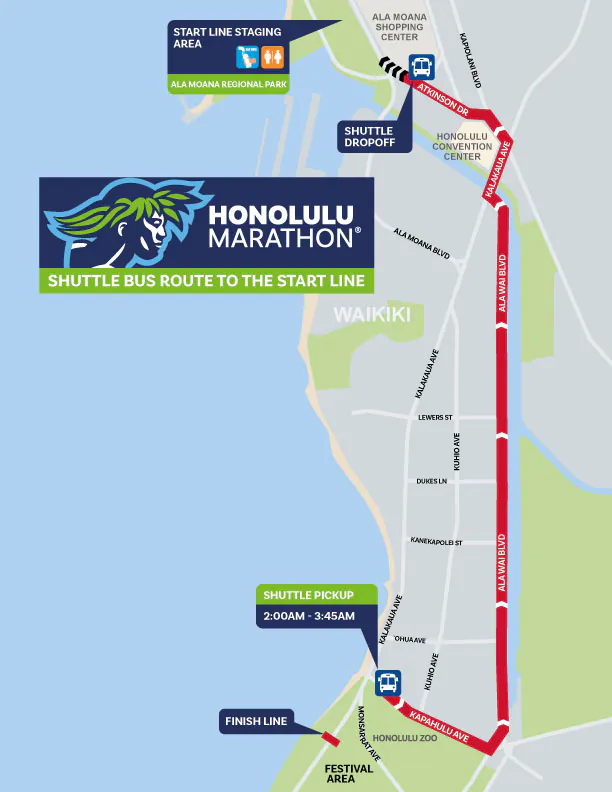 DROP-OFF: Prior to 3:40 am, Start-line drop off on Waimanu Street.  Proceed toward the ocean on Pensacola to Waimanu Street drop off, then turn towards the mountains onto Piikoi to escape the road closure.  If arriving after 3:40 am, drop off at Pensacola Street / Kaimaile Street or Piikoi Street / Kapiolani Boulevard.
PARKING:  Limited street parking may be available from a four to six block radius of the start line.
Parking is prohibited at the Ala Moana Shopping Center, Ward Center Theatre, Whole Foods, and access to Ala Moana Beach Park is limited to authorized vehicle only.
RESTROOMS: Portable facilities available.
IMPORTANT NOTE: There will be no Clothing Check-In at the START Area on Race Day. Any clothing left or discarded at the start area will be donated to charity.
The Clothing Check-In is in Kapiolani Park in the Finish Area and opens for drop off on Saturday, Dec 10, 10AM-5PM.  Your belongings must be placed in an official bag labeled with your running number which you collect at packet pick-up. Only officially labeled bags will be accepted at the Clothing Check-In tent.  Bags not collected by 3 pm will be donated to charity.