2023 Virtual Beachfest
2023 Honolulu Marathon Virtual Beachfest
You will be able to complete the 2023 Honolulu Marathon virtually in December at the Virtual Beachfest.
The Virtual Beachfest is ideal for those of you who are unable to travel to Hawaii or who do not want to run in a larger group. You'll get access to your racing account page with bib numbers, finisher certificates, finisher photo uploads. As you complete the course you will unlock and access content and entertainment from Hawaii, so you'll feel like you're there!
All three racing distances will be available. Complete all three in the Big Kahuna Challenge.

NEW FOR 2023 – The Big Kahuna Medal.
Complete all three distances and the Big Kahuna Challenge and receive all three race medals plus the new Big Kahuna medal.
We will also have a separate division for anyone who wants to complete the full marathon distance over more than one day.
Sign up to the Virtual Beachfest, completing one, two or all three race distances.
2023 Virtual Race Entry Fees
| | Single Events | Bundles |
| --- | --- | --- |
| Honolulu Marathon | $45 | |
| Start to Park 10k | $40 | |
| Kalakaua Merrie Mile | $35 | |
| Big Kahuna Challenge - All three distances | | $108 |
| Royal Challenge - 26.2m + 10k | | $76 |
| Ali'i Challenge - 26.2m + 1mile | | $72 |
| Menehune Challenge - 10k + 1mile | | $67 |
Virtual Event FAQ
Will there be a virtual race for those who cannot participate in the 2023 live events?
Yes, we are setting up a virtual event platform and verified finishers will receive finishers medals, race shirts as well as other perks. 
Can anyone enter the Virtual events?
Yes, anyone can enter the virtual events.  There is a limit on the number of entries available.
How do I run a virtual race? How do I track and upload my results?
You can run or walk your virtual race anywhere you choose!
It could be in your neighborhood, on a treadmill, or anywhere that is safe in your region.
On your chosen race day, track the run using a GPS tracker. You can use any tracker, such as Strava, Runkeeper, Garmin etc. The tracker will measure your time and distance covered. Then upload an image/screenshot of your run as proof to us.
Once you have registered for any of the virtual events, you will be given your own participant account page where you submit evidence of your race.  You'll also get access to the Beachfest Festival area where we'll have advice on running trackers and instructions on how to upload your evidence.
Our team will verify your race and send your finisher shirt and medal. 
Do I have to run the virtual race on a particular date?
You can run your race anytime from December 10 – January 9.
Do I have to run the full marathon in one day?
No. If you need more than one day to complete the marathon distance, select the multi-day event at registration and then submit images of all your completed runs and include your total running time.
Can I run my virtual race on a treadmill?
Yes!  Just take a photo of the treadmill total time and distance so you can submit evidence of your run. You can also upload a photo of yourself. We love to see where you're running!
Can I enter more than one event distance?
Yes, you can enter all three distances. We've bundled them together as Challenges. All three event distances is the Big Kahuna!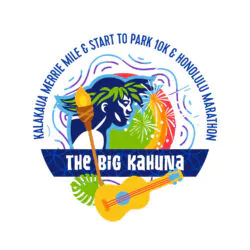 What is the deadline to register?
You can register right up until the event closes on January 9. Just make sure to give yourself time to finish the run and upload your evidence before midnight on January 9. There are entry limits for each event so it's better to enter early!
Can I register my family and friends to run?
Yes, you can register more than one person, including children on your account page. Each participant is listed with their name, so it's easy to manage the evidence submission.
Can I change my race distance after I register?
No, but you can add another event distance to your registration. You can enter all three event distances if you want.
If I complete the virtual event, will I get a finisher medal and race shirt?
Yes, we will mail these to your home address.
Do you ship internationally?
Yes, the Honolulu Marathon Virtual races are a global events, we ship to most countries in the world. 
Will there be age group awards?
No, since everyone will be running at different places and under different conditions, we won't do age group awards for the virtual race. 
Will I have to upload my results to access the virtual beachfest area.
No, after you register for any 2023 Honolulu Marathon virtual race distances or challenges, you will be sent a confirmation email along with a link you can use to access the Honolulu Marathon Virtual Beachfest. You do not need to complete the race in order to enjoy the content.
T-shirt sizing chart