Virtual Festival Zone and Account Page
Virtual Festival Zone and Account Page
Once you have registered for the Honolulu Marathon Virtual Beachfest you can access your My Account page and the Beachfest Festival Zone.
All participants need to submit evidence of your virtual race on the My Account page. 
Go to virtual.honolulumarathon.org
Click the Festival Zone or My Account link in the top navigation bar

2. If you have already signed up – click login
Enter your email and the password you created when registering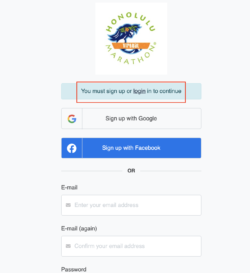 4.  You will access your My Account page.
The events you have entered will be listed here.
Click on any of the events to reach your download area for that event.

5. You can download your race bib, upload a selfie to the training overlay, and when your race is completed, you can download your finisher certificate from here.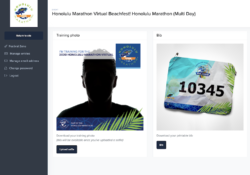 6. To submit evidence of you run/walk – click on Awaiting Evidence

7.  Enter your total time in HH:MM:SS and upload images of your running app or watch as evidence.
If you did the multi-marathon, you will need to upload evidence of each session.
When all pieces of evidence have been uploaded, hit SUBMIT EVIDENCE.
NOTE: Do not submit until you have finished the full distance and have your total finishing time.
After you have submitted your result and evidence, the verification team will email you within two days. If your result is accepted, you will be able to download your finisher certificate and you will be added to the results list.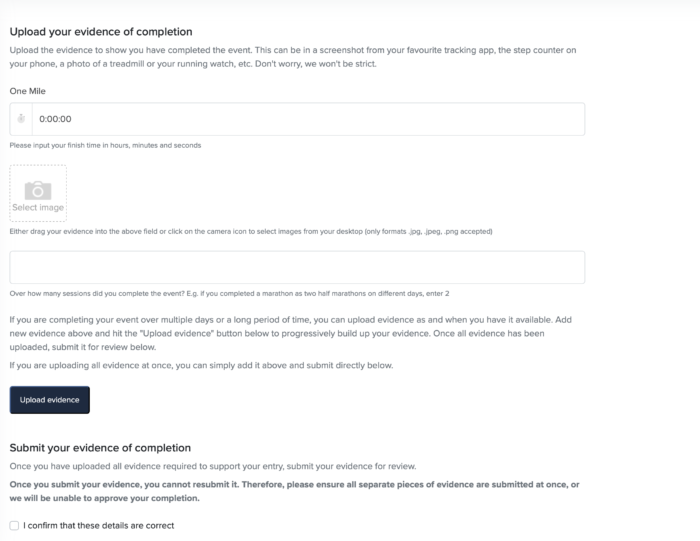 7. Access the Festival Zone and scroll down for music videos, cooking demos, kids coloring downloads. We will add more training tips and advice on how to run your perfect virtual!
From here you can go back to your My Account page by the link in the top navigation bar.